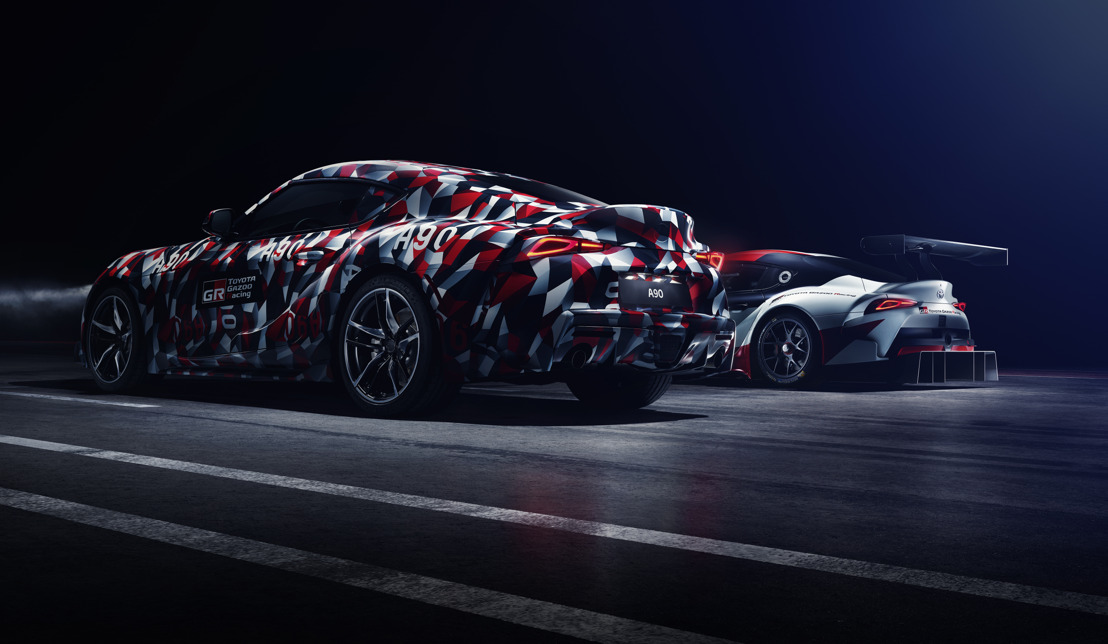 THE LEGEND RETURNS
Toyota Supra prototype to make its world debut at the Goodwood Festival of Speed
Monday, July 9, 2018
Toyota's hotly anticipated new Toyota Supra sports car to make its public debut in prototype form at the world-famous Goodwood Festival of speed in the UK
Car will make daily runs on the festival's hill course (July 12, 13, 14 and 15), driven by Chief Engineer Tetsuya Tada and Master Driver Herwig Daenens
New Toyota Supra will be faithful to its heritage with an in-line, front-mounted six-cylinder engine and rear-wheel drive
Toyota GR Supra Racing Concept and the Le Mans-winning N°8 TOYOTA TS050 Hybrid also to be present at Goodwood, on static display
Toyota Supra expected to reach the market during the first half of 2019
The new Toyota Supra, one of the world's most keenly anticipated new sports cars, will make its international debut in prototype form at the Goodwood Festival of Speed this summer.
The development model will be seen in action on the hill course at the famous motoring celebration in the UK, making an exclusive contribution to the programme for the festival's silver jubilee year. The prototype will be driven up the hill course by two of the people leading its development: Chief Engineer Testuya Tada, who has overall responsibility for the Supra project, and Master Driver Herwig Daenens.
Following the announcement of a new Toyota Supra at the Geneva Motor Show in March, Toyota can confirm the model will be faithful to its distinguished heritage as pure, sports car thoroughbred by using a front-mounted, in-line six-cylinder engine and rear-wheel drive.
The Toyota Supra prototype will be camouflaged in the black-red- and-white colours of TOYOTA GAZOO Racing and will be in action on the Thursday, Friday, Saturday and Sunday of the festival, July 12, 13, 14 and 15.
The thousands of motoring fans attending the festival will also have the chance to take a close-up look at the Toyota GR Supra Racing Concept. Created by TOYOTA GAZOO Racing, this concept heralded the return of the Supra name when it was unveiled at this year's Geneva Motor Show. It explores the potential for a high-performance competition model, featuring dramatic bodywork crafted in advanced, lightweight composite materials, lowered suspension, racing wheels and cockpit equipped to competition standards.
TOYOTA GAZOO Racing is the organisation which spearheads Toyota's global sporting programme and the development of exclusive, performance-focused, GR-branded road cars, including the recently introduced Yaris GRMN. In the FIA World Endurance Championship, TOYOTA GAZOO Racing achieved Toyota's first victory in the Le Mans 24 Hours with a one-two finish in this year's race and the N°8 TOYOTA TS050 Hybrid which claimed the historic victory will be on display in the competition paddock at Goodwood.
TOYOTA GAZOO Racing also competes at the highest international level in the FIA World Rally Championship with the Yaris WRC, claiming two victories in its debut season in 2017 and scoring a win on Rally Argentina and a number of podium finishes so far this year.
Toyota expects its new Toyota Supra to reach the market during the first half of 2019.